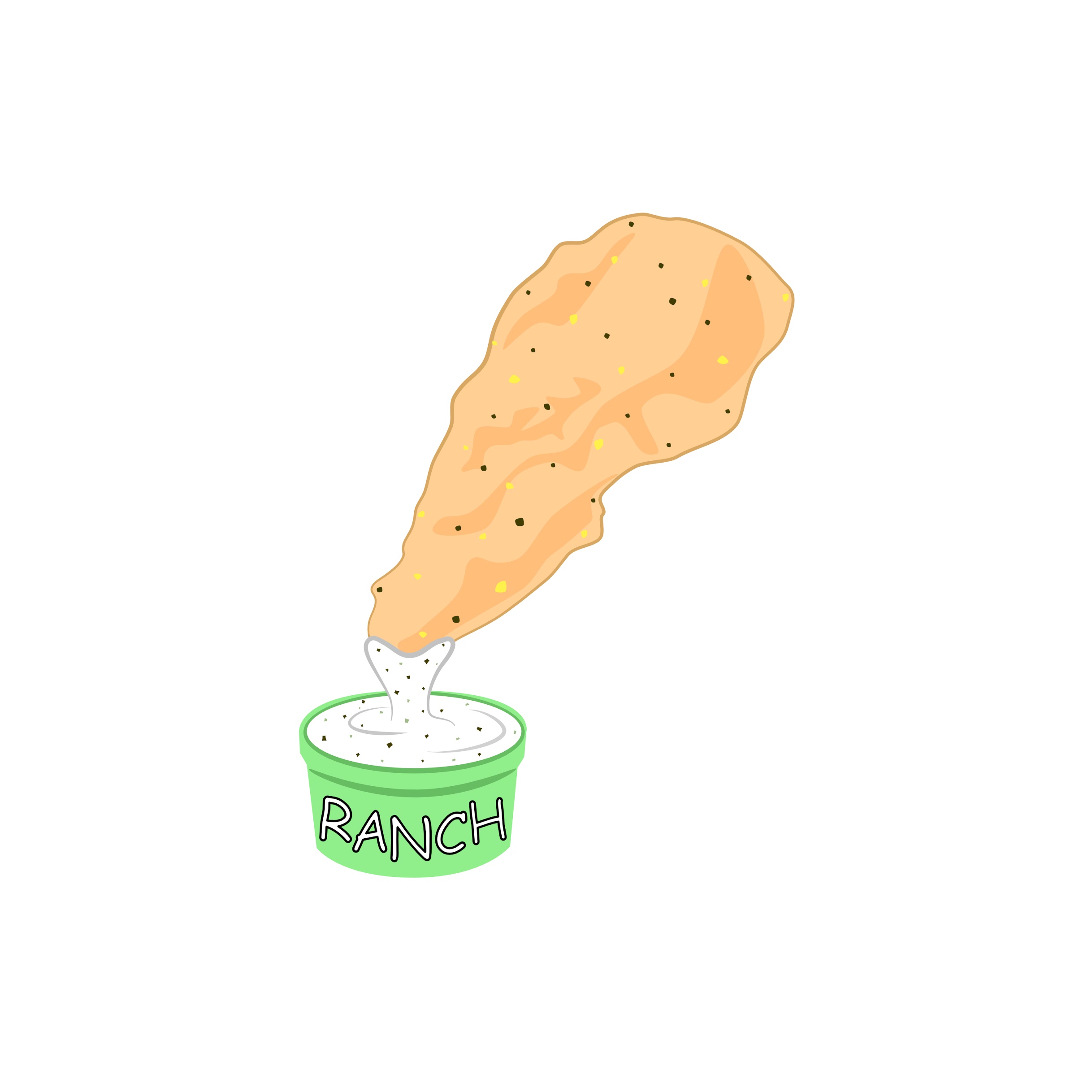 What Can I Get You?
It was dinner o'clock, and the age old question came about.  My eyes scanned the room as I tried to make up my mind on what I wanted to eat that night.  Do I stick to one of my favs, or do I step off the beaten path?  
I decided upon chicken with fettuccine alfredo, which was a solid grown up choice.  It had been a minute since I chose anything besides tacos, pizza, or mac and cheese.  My menu of options always remained relatively the same, and I didn't normally try new things.  The midwest in the 90s wasn't exactly a breeding ground for ethnic and diverse foods. Kids weren't out here requesting gluten free or vegan options wherever they went.  
Everyone knows all these new found allergies are bullshit, made up by doctors who are secretly hoarding all the bread for Oprah and the illuminati.  Oprah's got the cash, and she LOVES BREAD (if you weren't aware). 
My mother asked again, because I hadn't actually spoken the words out loud of what my mind had chosen.  Now you're thinking wait wait wait, you were at home this entire time? The answer is a big ole abso fucking lutely.  My parents were more or less my own personal waiters.  
They lived in separate homes and weren't together, so when we had meals it was just the two of us.  It was actually just me when I was at my Dad's, because I would take my meals and eat in my room in front of the TV.  Since my palette was so childish, my father often just made something for me and then ate something else. To this day my mom still brings up how he refused to put my meals on real dishware, and it was always served on a stack of paper plates.  Even foods that normally belong in a bowl went on a paper plate, like noodles of some sort. It made no difference to me, that was before dishwashers and I despised touching dirty dishes. 
Since it was only me, it made sense to be able to pick out whatever I wanted to eat every night.  As 2019 Ariana would say "I like it, I want it, I got it." There was no other mouth whining about wanting something else, or hating what I had chosen.  No one was on a diet in our home, no one had food allergies (more on this later), and no one was boycotting a certain brand for political reasons. This was Michigan after all; we ate garbage (which I didn't realize until later in life).  
At  an actual restaurant I ordered the same thing without fail: chicken tenders and fries, with LOTS of ranch.  "If you think it's a lot, add one more and then it may meet my standards," I used to say. One time at Red Robin our waiter got cocky with me, and brought me 19 ranches.  Have you ever tried Red Robin ranch? It's fucking delicious, so I took them to go. Jokes on you, ya ranch hating bastard. 
I would like to veer off the rails here for a second, and talk specifically about ranch. 
I consider myself a ranch connoisseur of sorts; in fact I think if Stassi Schroeder and I ever got together we could probably take down gallons in a single girl's night.  That may be a bit of an overshoot, but you get what I'm putting down. The ranch in Michigan is astronomically better than most other states (Bold statement, but true). I'm not sure if it's the crystal meth they put in it, or if a sprinkle of Flint water is thrown in the mix (just a sip won't hurt you, they say). 
Chicago's ranch is like someone accidentally mixed the Caesar into the ranch bucket.  It's as if it's not sure what it is, and I'm also not sure what it is. It makes my face pucker up like a fucking War Head has been inserted on my tongue, and a lemon one at that.  Also, if that's your favorite kind you're a serial killer there is no other logical explanation.  
You go to a restaurant in LA and ask for ranch, and two things happen.  1. They disgustingly look at you like your obese and 2. They tell you of course they don't have ranch, but perhaps a balsamic will do.  No a dressing made of godforsaken olive oil will just NOT do. You want me to dip chicken, fries, pizza, and a plethora of other things in a fucking balsamic?  Are you mental? Has the smog seeped into your brain, and caused this much damage? What in the hell am I going to do with a balsamic? Nothing, nothing is the answer.  
So take your balsamic to the Victoria Secret models at table 5, cuz this bitch aint having none of that up in here.
Now that I've taken the train completely to a different town then was intended, back to my eating habits.  Needless to say they have always been quite strange. It's unclear if they are strange because of the way my parents allowed me to eat a young age, or if the way I ate is a product of the strangeness.  I feel like I should say something about the chicken before the egg here, but I honestly don't recall that odd metaphor and contrary to popular belief I did not grow up on a farm.  
I'm from Grand Rapids, Michigan.  Take a quick second to Google, and don't ever ask me if I grew up in a corn field, if I had animals or crops, or anything of the sort.  
Anywho, I happen to possibly be the slowest eater you have ever met.  I had no one eating around me that was wolfing down their food like many of my friends with brothers did.  "If I didn't hurry up and finish my plate, Jack would start eating off of it once he finished with his."  
All that he's a growing boy excuse is such bullshit.  Let the girl have her dinner for God's sakes. She needs that artificially injected meat in order for her boobs to grow, and someone to want to marry her someday.  That last sentence is some nonsense my Mom told me about why I was such a late bloomer in the chest department. She claimed it was because I was fed the good stuff, whatever that meant.  
Going over to someone else's house for dinner was always a struggle.  I quickly began to realize that most parents just told their kids what was for dinner, not asked them what they preferred.  
The fact that the adults were making this decision by themselves was baffling to me.  A few classic meals that caused me mass anxiety were burgers and meatloaf. My mom hates burgers, and you know how you often don't like the foods your parents don't?  I tried them several times over the years, but the only instance I actually enjoyed one was a near blackout at a Warped Tour BBQ that catered In n Out.  
I was aware it was rude not to eat something someone cooked for you, especially when you were a guest.  On the contrary, I actually found it quite rude to not check with the guest of honor what they would enjoy eating (baby emperor coming forth).  
I could not make myself choke down something I didn't like.  I've always had a strange aversion to certain textures within food, and a lot of them make me gag.  Unlike Lady Gaga I have 0 poker face, and the contortions and expressions I display are out of an exorcism.  
When my Mom or Dad picked me up from someone's house, their parents loved to tell mine what a fussy eater I was.  I'm not sure if this is their version of "Hey there, your child is spoiled as fuck, you should look into it!" Do you have an end game here Brenda?  Your embarrassing yourself, the rents facilitated these habits, so I call tomfoolery.  
Let's take this one step further, and discuss my inability to use a knife properly.  Whatever does that MEAN, is the common response.  
Much like in a restaurant, my food was brought to me ready to eat.  Perfectly proportioned, and many times precut for me. This was particularly the case when meat was involved.  I'm not sure if my parents feared what I would do with access to a knife? I was a secretive and mischievous child; maybe they expected some Orphan or Firestarter type behaviors if I had access to weaponry?  
I loved Steak, but I was always forced to order the steak tips when we ate at Logan's Roadhouse.  One can only fill up on peanuts and buttered bread, before needing something hearty and substantial.  
Later in life, the lack of this skill was quite the issue.  The steak tips were only on the kids menu, and now I was a full blown teenager on a date with my boyfriend's family.  It was pretty obvious I was clueless, and the contents of my platter were being flung all over our table as I attempted to cut my first steak.  He explained to the table that I was not a recovering vegetarian (phew), just an only child. Everyone seemed to understand when he said those two magic words.
I have leaned into this inability these days.  Not only can I not cut things, but I also struggle opening anything.  Luckily the people around me are aware, and have no problem aiding in my handicaps.  My desk mate Jason and I have apple time around 3 pm each day, and he cuts my apples nice and thin just like I like them.  
Many of these situations provide me with special bonding moments with my peers; others cause me to corkscrew a hole in my Gatorade after just about every other trick to open it I could fathom.  I was hungover and in desperate need of electrolytes, so I suckled out of the tiny hole I twisted into the top of the cap. Is the handicap due to my tiny carny hands? Is it due to my long natural coke fingernails?  Am I weak, or do I just like people waiting on me?  
This chapter would say it's the latter.
My mother adored going out to eat, and was all about the presentation of the meal.  The dishes we ate on had to match, and that included the cutlery as well. Due to this, I have always been super influenced by how a food looks.  If it doesn't look good to me I will immediately say I don't like it. This seems logical doesn't it?  
There are so many foods that don't look appetizing.  The only exception to the rule is dips. I have said it before, and will say it til the day I die, the best dips look like vom.  Needless to say, I didn't try a lot of new foods growing up, and that was fine because no one forced me to. 
In 5th grade we moved in with a man, who would eventually become my stepfather.  I wasn't used to living with someone else, and there were many things I disliked about adding another family member to our household.  One of them was the new array of foods that popped up out of nowhere. I'm not sure if my Madre was trying to impress him with her mad cooking skills, and seem otherworldly?  
I was now asking what we were eating for dinner, instead of being asked what I would like.  Of course some of his favorites I didn't mind, but there was one night I completely lost control.  
It was the introduction of spinach lasagna, instead of our usual ground beef.  It's quite possible that by this time, middle school me had never even seen spinach before.  Less than thrilled with this choice, I immediately offered to make something else for myself.  My mother insisted I try some, so I obliged. I swiftly threw it up on my dinner plate.  
She then attempted to make me eat said throw up, and I ran to the kitchen and dumped it.  I was forced to starve for the rest of the night. I am grimacing now just thinking about the sliminess of the spinach tucked in between the noodles, cheese, and sauce.  This is what nightmares are made of boys and girls. If I was allowed a knife, I may have actually stabbed someone after being forced to eat this meal. 
Things at my Dad's were on the fritz as well with the addition of his live in fiancé, and her two kids.  She was so damn insistent upon me eating what she cooked for the whole family, and I was not having it. One night in middle school I got home from working at a nearby strawberry farm, where I ran the little ice cream shop.  I was famished, and found out my future step monster had given her usual half assed attempt at cooking. No thank you ma'am, I will be making myself mac and cheese.  
After my dinner, I noticed my Superman ice cream was gone.  I hadn't touched it, and my Father had especially bought it for me.  What in the actual FUCK?  
Not even a scoop of that precious Hudsonville ice cream had made its way into my gullet, the only mouth it was permitted to enter.  I threw what could only be described as a tantrum, and warned my dad this better NEVER happen again. Shockingly he apologized to me, and defended my honor when the bimbo gave me hell for not eating her meal.  
I now understand she was upset because I was setting a bad precedent within the household.  The one that all the kids could eat whatever the hell they wanted, whenever they wanted. That it was up to them to choose for themselves, and it wasn't of any importance we ate all together.  That this was a restaurant even, and her only job before each meal was to simply ask "What Can I Get You?"
I moved out of Michigan to Chicago when I was 21 years old, which most people would consider an adult.  Chicago was a city full of 5 star restaurants, and foods I had no access to previously. Menus at these restaurants were either the size of the Cheesecake Factory's, or a flashcard.  There was no in between.  
My new worldly friends ate all sorts of foods I wasn't familiar with.  Also, deep dish pizza? What in the hell is going on there? All my favorite food items were made trendy.  What was wrong with the simplicity of a tex mex taco with meat, lettuce, and cheese? So many garnishes were being added that were unnecessary.  Many combos didn't make sense to me, and I was terrified and unwilling to try.  
I often skimmed menus unable to find anything I desired, and would then notice the phrase that haunted me in my dreams.
NO MODIFICATIONS ALLOWED
This was a mistake, correct? You're telling me I can't take anything out of this meal, and or add anything to this meal?  
The idea seemed ludicrous, as I was constantly asking for "no (whatever veggie that I hated that was included) please."  I couldn't recall the last time I had not modified a meal I ordered. Even at fast food joints I modified.  
This had to be illegal, who do I call to rectify this?  Do I write a Yelp review, aka today's version of writing a letter?  I had no choice but to suck it up, and start ordering things as is. I didn't want to seem childish around my new work friends..  As if I was playing a game of operation, I simply picked out whatever I didn't like.
Trying new things was an inevitable part of my life in these years.  Waiters were no longer here to serve me exactly what I desired, as I had become accustomed to.  There were some revelations within this time. Guacamole, are you fucking kidding me? How have I been sleeping on guac my whole life?  I remember my mother would always order it, and I scoffed in her direction disgusted.  
I've searched my brain for another example, but nothing comes to mind.  Regardless, I continued my plight towards eating more like an adult. 
I went on my first trip to California with one of my best friend's at the time, Anne.  She was a pescatarian, which was unusual of a MI native. I adopted the lifestyle during lent once, and gained 10 pds due to all the carbs I ate.  I was constantly starving, but in the process I discovered a love for Sofritas from Chipotle.  
To my dismay, Anne was always encouraging me to try new fish items. While in San Diego, we went to a very nice seafood restaurant on the water.  My vacation brain told me to order something new, and seafood was their specialty. A fisherman probably caught these slimy buggers just this morning.  If there was ever a time to try, it was now.
Pesto pasta with prawns I decided upon.  I had no clue what on earth a prawn was, but I knew I loved pesto pasta.  If I hated the fishy, I could do my usual dissection and eat around it. A prawn ended up being a big shrimp, which come to think of it explains why they are called shrimp.  
Side note, I wish emoji's were included in books.  If they were, I would've used a thinking head after that last sentence.  If you're listening via audio, this may make more sense due to my incredibly descriptive tones.  
Back to the ginorm crustaceans, there were 0 things about them I liked.  I don't think I finished two before the taste was so unbearable, that I couldn't gag anymore of Sebastian's cousins down.  The high class restaurant community tends to frown upon puking onto your plate, so I had to veer on the side of caution. I patted myself on the back for being a big girl, and trying my best.  I'm still awaiting my participation trophy.
We got back to our hotel room, and I was extremely ill.  I concluded that my stomach wasn't used to this type of fish, and tried to force myself to throw up.  For some reason, even with the aid of a toothbrush I was not successful. I never went through a bulimia phase, and was not a fantastic puker.  I accepted defeat, and went to sit on the bed to brainstorm other solutions.  
I began to notice a cold sensation coursing down the back of my body.  It was if I had been selected for the ice bucket challenge, and the frigid water was washing over and over me.  Parts of my body started going numb, and as I was explaining my symptoms to Anne she was looking down at her phone worried.  Little did I know she was Googling several of my symptoms, and had Web MD diagnosed me with a shellfish allergy.  
I had no clue what this meant, so for the most part I remained calm.  She decided we go to an urgent care straightaway, and I complied. We arrived at the urgent care, and they were closed as it was late in the evening.  There were handouts by the entrance with every open ER, and she plugged the closest one in the GPS.  
By this point I was having a lot of trouble breathing, and was almost gasping for air.   I was King Joffrey, and had just been fed a healthy pour of The Strangler.  If you don't watch GOT, you are essentially NOT an actual member of society.  I put the window down, and stuck my head out like a dog. The hospital was a lot farther than we expected, and sometime over the Coronado Bridge things went dark.
I vaguely recall Anne talking to me, and being unable to speak back.  Come to find out I had went into shock, and the reason I couldn't force myself to throw up or breath for that matter was because my throat was closing up.   
Anne began to panic, and was speeding our rental car to the hospital as fast as she could while simultaneously chain smoking.  Upon arrival the nurses had to retrieve me from the vehicle, and carry me in on a stretcher. My head was so foggy, I don't even recall what the nurses looked like or what they asked me.  All I know is that with every question, my brain would answer and then my mouth would say something completely different.  
For example if I was asked what month it was, I would reply orange.  As soon as the word hit my lips I would realize it wasn't what I was thinking, and fall into a string of panic attacks.  At this time, they believed I was having a stroke.  
Once I was in a room and hooked up to all sorts of equipment, I began to fear for my life.  It seemed like this had escalated quickly, and was much more serious than I originally thought.  There was a period when I could feel my body shutting off. The best way I can describe it is similar to that exercise you do with your body in order to help you sleep.  Where you clench your neck, then relax, then move onto your shoulders, then arms, then fingers, etc.  
It felt like one by one my body parts were shutting off, and if this feeling reached my feet I would be dead.  
All the while I couldn't move, and my head was tilted towards Anne.  She has these beautiful big green eyes, and wore heavy black eyeliner and mascara.  As she looked at me she was crying, and big black tears fell down her face. That image is etched in my memory forever, like the cover of an emo cd from the early 2000's. 
The date is etched on my foot forever in my handwriting, my very first tattoo.
This allergic reaction was unlike many they had seen. The doctor told me that if we had waited even an hour longer, or if I had consumed more of the super-sized shrimp, I would not have made it.  
I stayed in the hospital for about a day, and when released it felt like someone had hit me with a semi.  I was so weak, and the toxic poison had caused an adverse reaction to my motor functioning. I struggled to use my hands and arms, and was prescribed a high dose of steroids in order to rebuild.  Physical therapy for 6 months to a year was also recommended. 
I've suffered many a injury in my day, some that I caused doing stupid shit, and some that I incurred during sports.  When you're young and have your parents to aid you, none of these felt so bad (figuratively of course). Here I was at 23 years old on vacation, with a near death experience to add to the books (pun intended).  
All I did was try something new, a food at that.  Something I had been fighting all my life to avoid.  Something my parents had enabled me to avoid up until this point.  In an odd way part of me feels they were protecting me by allowing me to eat in such a finicky way.  The other part of me curses them for not having me tested for allergies when I was little.  
Remember when I said no one in my family had food allergies? 
The recovery from this experience was long and difficult.  The medications I was on made me drowsy, and I could only work half days a lot of the time.  Eating was a struggle, as I was now afraid everything had traces of shellfish in it. If I began feeling a strange reaction to a food I ate, I swiftly grabbed a Benadryl, smashed it with the nearest heavy object, and put the pink powder directly on my tongue.  
PTSD is something no one deals with well.  Paranoia began controlling my every move. I constantly believed I was going to die somehow.  Death didn't necessarily scare me, but regret sure did. The regret that I wouldn't accomplish certain things I set out to do.   
Time was obviously of the essence, and I had no more of it to waste.  I wasn't happy in this city, with this job, with my love life or lack thereof, and I had to do something about it now.  Moves had to be made. It was time to save all my money, and move to California to pursue my dreams. 
Therapy was the best thing I ever did for myself.  My limbs were recuperating and rebuilding, but it was my mind that needed the most healing.  My therapist helped me realize that shellfish wasn't the only toxic thing coursing through my blood.  I was surrounded by constant reminders of my darker past, and was too close in proximity to certain people I needed distance from.  
Attention one and all: new foods are cancelled.  I repeat, the new food trying is not coming back for season two.  
Sure we found our love for guac and sofritas, but we also were almost buried.  I don't believe that dish was worth a lifelong slumber, home girl has too much left to do.  
For all those who encouraged this experimental behavior, shame on you.  To my parents, thank you for allowing me to keep up my OCS diet of about 10 different foods.  To my gastroenterologist, no I will not give up alcohol or spicy foods even though I may very well have an ulcer.  To my roommate Axel, yes I will still be bitching about how I feel like I'm going to ralph all the time. To those prawns that were almost the death of me, stay in the ocean with Ariel where you belong.  
To chicken fingers with just the right amount of breading and Michigan ranch dressing, I owe you my life.  The answer to what can I get you has always, and will forever more be you.